CHARITY GOLF TOURNAMENT
February 3rd, 2018
Sponsored by the Lost Dutchman Days Committee, Apache Creek Golf Course, located at 3401 South Ironwood Drive, Apache Junction, will be hosting this one day GOLF event. $65 entry per person includes golf, golf cart and lunch. there will also be a raffle and prizes. Sign-in starts at 7:00 A.M., shotgun start at 8:00 AM. Field is limited to the first 132 players.
All proceeds go towards "Putting Smiles on Kid's Faces".
For more information call Tom Kain (602) 723-9802. View our Golf Tournament flyer for more information. All forms can be printed, filled out, and then turned into Tom Kain at the Elks Lodge in Apache Junction.


LOST DUTCHMAN DAYS ANNUAL BRATWURST & BEER PARTY
February 22nd, 2018
Join us from 12:00 P.M. - 8:00 P.M. at the Apache Junction Elks Lodge #2349 for everyone's favorite- Johnsonville Bratwursts, drinks and live entertainment. All proceeds benefiting local youth charities. So don't miss the FREE entertainment.
Entertainment includes the following bands and show times: TBD
RODEO DANCE
February 23rd, 2018
The Rodeo Dance will be held from 7:00 PM - 11:00 PM at the Elks Lodge 2349 at the corner of Lost Dutchman (Brown Road) and Highway 88. This is the place to be on Friday night on rodeo weekend - Entertainment by the Zona Road from 7 P.M. - 11 P.M. This is a non-smoking event! MUST BE 21 years of age to attend. Dance admission is $5.00.


THE MAIN EVENT CENTER
February 23rd, 24th & 25th 2018
$2.00 admission includes free parking only. A donation will be made by the Lost Dutchman Days Committee to the Apache Junction Little League for their assistance.
The Main Event Center is located on 1590 E Lost Dutchman Blvd & Tomahawk Road at Rodeo Park in Apache Junction. This is where all the activities will be held including: FREE Entertainment Stages, Carnival rides, Vendor Booths, Rodeo, and the Crowning of the Miss Lost Dutchman Days Pageant Queen. Additional charges apply for the games and rides in the carnival area, purchases from the vendors, Rodeo & Rodeo Dance held at Elks Lodge #2349 .
The Gates open at 9:00 A.M. thru 11:00 P.M. on Friday and Saturday and 9:00 A.M. thru 6:00 P.M. on Sunday.
Rodeo Center Map or click here for directions.


LOST DUTCHMAN DAYS GCPRA SANCTIONED RODEO
February 23rd, 24th, 25th 2018
The 54th Annual Lost Dutchman Days GCPRA Sanctioned Rodeo begins at 1:30 P.M. each day in the Rodeo Park in Apache Junction. Rodeo events include Bull riding, Saddlebronc, Bareback, Calf & Team Roping, Steer Wrestling and Ladies Barrel Racing and Breakaway Roping.
For more information regarding entry fees, dates and times, click here - Rodeo Information.
Select for 2017 Rodeo Results.
The 54th Annual Lost Dutchman Days professional rodeo would like to welcome this year's specialty act, Rider Kiesner.
• Champion Trick Roper
• Gun Spinner
• Whip Cracker


Mutton Busting
February 25th, 2018
Lost Dutchman Days is happy to announce that we will be having Mutton Busting again this year! We will have room for thirty entries, and it will be first come first serve. The riding will be held after the rodeo performance on Sunday the 25th. We will announce further information the day of. There will be an age/weight limit that will be determined by the stock contractor. It will be $20 a ride with a buckle for the best ride! Can't wait to see all of our young riders out there!"


LOST DUTCHMAN DAYS RODEO ROYALTY PAGEANT
Thank you very much, for your interest in the 2018 Lost Dutchman Days Rodeo Royalty Pageant. Our Lost Dutchman Days Rodeo Royalty Committee has been working all year to make this year the best Lost Dutchman Days Rodeo Royalty Pageant yet.
Applications for 2018 Royalty Pageant are due by January 6, 2018.
For Pageant Application and Schedule Packet, Select Here.
Mission: "Putting Smiles on Kid's Faces." As Rodeo Royalty we wish to represent our community and uphold our western heritage, add to educational programs, awareness workshops, and public relations that are vital to the future existence of the sport of rodeo. Our Royalty will serve as "good will" ambassadors while traveling through out our beautiful state of Arizona to support the Lost Dutchman Days Rodeo and the rodeo mission.
The Lost Dutchman Days Rodeo Royalty Pageant is held annually to select 3 young ladies fulfilling the titles of:
• Jr. Teen Queen Ages 10 - 13
• Sr. Teen Queen Ages 14 - 17
• Queen Ages 18 - 26
Any questions and all applicant entries can be directed to Heidi Erickson, the LDD Rodeo Royalty Director at 480-603-6819 or via email: misslostdutchmandays@yahoo.com.
A big thank you to our 2017 Lost Dutchman Day's Royalty! Brooke Smith, Senior Teen Queen; Jaelee Mernaugh, Junior Tean Queen; Ashley Issac, Queen, thank you for serving our community and representing Lost Dutchman Day's Rodeo.
CARNIVAL EVENTS
February 23rd, 24th, 25th 2018
Lost Dutchman Days Carnival features 30 + rides and carnival events located in the Event Center. Carnival runs from 9:00 A.M. - 11:00 P.M. on Friday and Saturday. 9:00 A.M. - 6:00 P.M. on Sunday.


LOST DUTCHMAN DAYS PARADE
February 24th, 2018
The Lost Dutchman Days Parade is a free event. It begins at 9:00 A.M. in downtown Apache Junction. Route: On Apache Trail, between Idaho and Ironwood - begins at Phelps, just west of Idaho and goes west to Ironwood and returns. This parade allows viewers to see and line up on either side of the route.
All Early Applications must be in our office no later than February 17, 2018. Application fee is $50 for Non-Profit/Individual and $125 for commercial or political. Applications will be accepted until February 20th but will be subject to a $25.00 increase. Select for Banner Goldfield Lost Dutchman Days Parade Application.
For further information contact us at (480) 982-3141.


LOST DUTCHMAN DAYS ARTS & CRAFTS FAIR
February 24th, 2018
Apache Junction Soroptimist Arts & Crafts Fair held at the Pinal County Complex is a one day only event on Saturday, between the hours of 9:00 A. M. thru 4:00 P.M. This is a separate event from the rodeo. Come join us to see the artists and crafter's display their fine workmanship.
Select for Arts & Crafts flyer
If interested in setting up a booth, Get an online application or call (480) 982-3434. Booth fees are $60.00. Deadline for Applications must be submitted no later than February 20, 2018.
City Vendor Forms will be addressed as Arts and Crafts applications are submitted.


COWGIRLS HISTORICAL FOUNDATION
Galloping with Gusto and Saddled Up for Service is the Cowgirls Historical Foundation! This talented group of riders has earned many accolades and awards; both as a team and individual riders. They have had the honor of being selected to ride in the Pasadena Tournament of Roses Parade for the past 4 years. Donating hundreds of hours to community service and charity events; they reach out to share their time and talents. Working to preserve our western heritage, they present a fun educational program and "Wearing It Western" fashion show. The Cowgirls Historical Foundation loves the sport of Rodeo! Many of their riders have enjoyed the privilege of serving as Rodeo Royalty for rodeos across Arizona and the country. The CHF Drill team has performed at L.A.'s Equestfest and many rodeos.
Cowgirls Historical Foundation will be performing their special drills for the Rodeo and also set the pivots for the Grand Entry at each Rodeo performance.
Happy Trails and "May the Horse Be With You" from the Cowgirls Historical Foundation!
www.cowgirlshistoricalfoundation.com


KICK-OFF DINNER
January 11th, 2018
LDD Honorary Dutchman/Kick-off dinner will be held at the Apache Junction Elks Lodge #2349. $15.00 dinner includes lasagna or open faced sandwich. RSVP by Contacting Heather McClellan at 480-694-3027 with your dinner choice no later than January 6th. We will also be introducing queens, new honorary Dutchman and heritage award. This is a NON SMOKING EVENT.
Tom Kain accepts the 2017 Honorary Lost Dutchman Award. Robinson Golf Cars received the 2017 Heritage award because of their long-term support of Lost Dutchman Days through donations of equipment.
New Honorary Dutchman Award
Tom Kain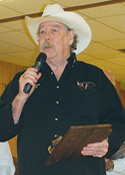 New Heritage Award
Robinson Golf Cars